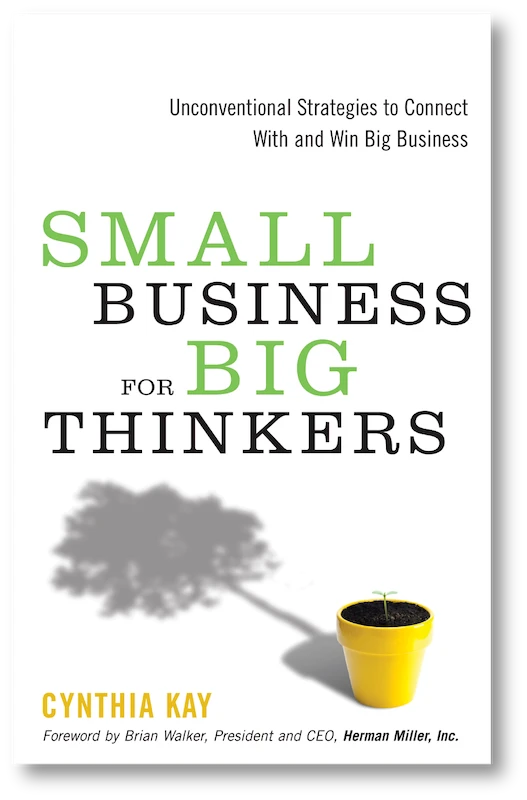 Small Business for Big Thinkers:
Unconventional Strategies to Connect With and Win Big Business
A small business is not just a scaled-down version of a big one. In fact, some of the strategies that work well for larger companies may actually be completely irrelevant for smaller firms.
Small Business for Big Thinkers offers unconventional but proven strategies to run a better small business. What makes this one of the best books for small business owners is that it also provides a roadmap for owners looking to expand their small businesses by doing more business with Big Business.
Cynthia's down-in-the-trenches stories, along with those from other small-business CEOs and Big Business experts, show you how to connect with highly sought-after customers and win them over!
You'll learn how to:
Create an organization that is operationally efficient, creative, and entrepreneurial
Attract and win contracts from much larger companies
Serve complex, global companies by forging strong relationships
Evaluate Big Business opportunities and know when not to compete
"Small Business for Big Thinkers is a quick read but packed with easy-to-understand, real-world applications for every stage of small business development from cultivating the right idea, to finding appropriate financing, to building a productive team, to landing and working with large customers. Ms. Kay accurately details the key strategies and subtle nuances essential in creating, maintaining, and growing a small business in our contemporary environment. Ms. Kay hides nothing from the reader including in-depth discussions of her own business failings and the important lessons she gleaned from them."
- Endorsement from David C. Rhoa, Former CEO of Marana Group, Owner D2R Consulting and a Visiting Assistant Professor in the Department of Economics and Business at Kalamazoo College. Rhoa teaches a course entitled: Principles of Small Business Management.
Stop Wishing.
Stop Whining.
Start Leading.
A No-Nonsense, Straight-Talk Guide for Women Who Aspire to Lead
When it comes to business and women, there has been too much talk of a glass ceiling. It's time to break through.
Stop Wishing. Stop Whining. Start Leading. is your invaluable guide to success. Authors Cynthia Kay and Doreen Bolhuis, both creative and dynamic business owners, skip the fluff to tell you how it really is as they share tips on how to get ahead.
Their practical advice encourages women to start thinking about their futures as leaders—and what it takes to get there. Kay and Bolhuis urge women to develop their own personal brands of leadership instead of simply mimicking management styles…and form their own paths to success in the process.
Whether you're a mid-level manager looking for more leadership, a female executive with dreams of being a CEO, a female business owner wanting to be a better leader, or a company seeking to grow your high-potential female leaders for bigger roles, there is valuable information to be learned.
There are barriers for women who want to get ahead—but it's far from impossible to break through to the other side. The practical, "in the trenches" insights make this one of the best leadership books for women looking to get ahead. Learn how and achieve the success you crave today!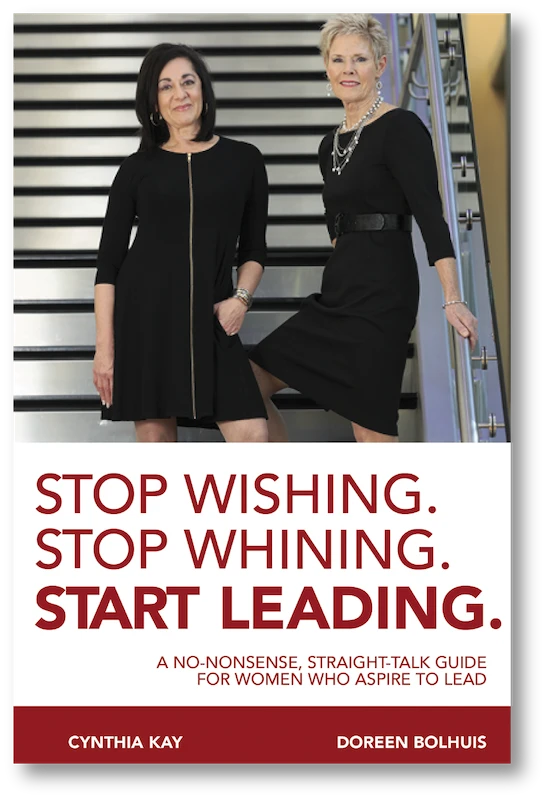 "You were inspiring, intelligent, lovely, powerful, graceful, and encompassed everything I could have dreamed for this conference and MORE. After meeting you I feel energized and ready to take on my next adventure."
-Event Coordinator - 5th Annual Women in Business Expo & Conference – Lexington, KY